Xiaflex® is a prescription medicine that is used to treat so types of Peyronie's disease in adult men who have a plaque buildup that can be felt along with a curve in the penis that is greater than 30 degrees at the time treatment begins.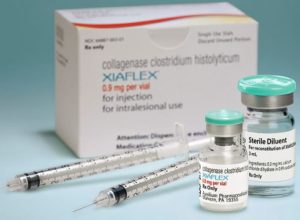 Xiaflex® is used in the treatment of certain conditions that are caused by a certain collagen protein buildup in your body, which is a strong and tough substance and it is found in the knots of the hand in Dupuytren's contracture or in Peyronie's disease.
Using Xiaflex® to Treat Peyronie's Disease
Xiaflex® should be administered by a healthcare provider that is experienced in treating male urological diseases.
For each plaque that causes the curvature deformity, a maximum of 4 treatment cycles can be administered. Repeat each treatment cycle at approx. 6-week intervals. In cases where the curvature deformity is less than 15 degrees after the first, second or third treatment cycle, or when further treatments aren't clinically indicated, then further treatment cycles should not be given.
1 to 3 days after the second injection of each treatment cycle a penile modeling procedure is performed.
Reconstitute Xiaflex® lyophilized powder with only the diluent that is supplied prior to use.
The penis should be in a flaccid state before injecting XIAFLEX.
With the penis in the erect state, the target area in the Peyronie's plaque will be identify and marked for the injections.
Xiaflex® Dosages
The single-use glass vials contain 0.9 mg of collagenase clostridium histolyticum as a sterile, lyophilized powder for reconstitution. Sterile diluent for reconstitution is also offered in a single-use glass vial.
A treatment cycle consists of two Xiaflex® injection procedures and a penile modeling procedure.
To administer the dosage the health care professional will induce a penile erection. Then a single intracavernosal injection of 10 or 20 micrograms of alprostadil is administered. Or, inject 0.58 mg Xiaflex® into the target plaque of the flaccid penis once on each of two days, with one to three days apart.
How to Use the Xiaflex® Injection
Before any injection make sure to read the Medication Guide your health care provider provides If you have any questions, talk to your pharmacist or doctor.
If you use this medication to treat Peyronie's disease, the medication will be injected into the plaque in the penis by your health care provider. Each treatment cycle will have 2 injections 1 to 3 days apart and a straightening procedure 1 to 3 days after the 2nd injection. For at least 2 weeks after the second injection you should not have any sexual activity and then only after your doctor says gives you the go ahead. You could have up to 4 treatment cycles. Each treatment cycle will be about 6-weeks apart. In between these cycles, you must follow your doctor's instructions on how to stretch and straighten your penis. If you have trouble with either stretching or straightening your penis or if it is painful talk to your doctor.
Do Not Use Xiaflex® Injections If:
Your healthcare provider has told you that the Peyronie's plaque to be treated involves your urethra
You are allergic to collagenase clostridium histolyticum or any of the other ingredients in Xiaflex®
You have peyronie's plaques that involve the penile urethra
Xiaflex® Precautions
If you have penile fracture or other serious injury to the penis: Avoid injecting into the corpora cavernosa, nerves, urethra blood vessels, or other collagen-containing structures of the penis. An injection into these structures could cause permanent injury such as penile fracture.
Hypersensitivity reactions, that include anaphylaxis: Healthcare providers should be able to address hypersensitivity reactions, that include anaphylaxis, after an Xiaflex®
Patients with abnormal coagulation: Caution needs to be used that includes patients who have received anticoagulant medications within 7 days of the injection.
Xiaflex® Side Effects Include:
The most commonly reported adverse drug reactions that was reported was with ≥ 25% of patients treated with Xiaflex® for Peyronie's Disease and at an occurrence that was greater than the placebo were penile swelling, penile hematoma, and penile pain occurred.
The most common side effects with Xiaflex® when treating Peyronie's disease include:

a lump at the injection site
a small collection of blood under the skin at the injection site (hematoma)
blisters at the injection site
changes in the color of the skin of your penis
erection problems
itching of your penis or scrotum
pain or tenderness at the injection site
pain with sex
painful erection
penis bruising
swelling at the injection site
Tell your healthcare provider if you have any of these side effects.
Xiaflex® Serious Side Effects:
Penile fracture can occur when you receive an Xiaflex® injection, which can result in damage to the tubes in your penis. After a Xiaflex® treatment one of these tubes could break during an erection causing a penile fracture. You may need surgery to fix the damaged area and the penis damage may not get better after you have a corporal rupture.
After a Xiaflex® treatment blood vessels in your penis can break, resulting in blood collecting under the skin requiring a procedure where the blood must be drained from under the skin.
Symptoms of corporal rupture and/or other serious penile injuries include:
a popping sound in an erect penis
trouble urinating
blood in the urine
penis pain
swelling and bruising of your penis
abrupt loss of the ability to keep an erection
Immediately call your healthcare provider if you have any of the symptoms.
Do not have sex between the first and second injections of a treatment cycle.
Do not have sex for at least 2 weeks after the second injection of a treatment cycle.
Call your healthcare provider right away if you have any of these symptoms of an allergic reaction:
chest pain
dizziness or fainting
hives
low blood pressure
swollen face
breathing trouble
Cost Of Xiaflex
Xiaflex® will cost $3,300 an injection, so a full treatment course of 8 injections will cost around $26,000, plus the doctor's fee. Doctors already use less expensive drugs off-label to treat Peyronie's Disease that include generic blood pressure drug.
Xiaflex® for the treatment of Peyronie's disease is available only through a program that is restricted called the Xiaflex® Risk Evaluation and Mitigation Strategy (REMS) Program.
For those who are not good candidates for Xiaflex or are just too scared of the serious risks associated with it's use then using a penis extender such as Proextender along with an ED supplement like Vigrx Plus might just be the safest route.